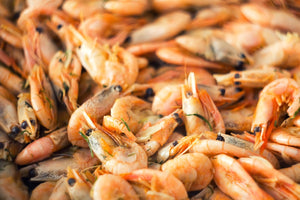 5 Healthy Reasons to Eat Shrimp
At FARM-2-MARKET, we're proud to carry a wide variety of fresh shrimp and scallops. From Live California Spot Prawns, Raw Peeled Tail on Wild Mexican Shrimp, to Fresh Wild Baja White Shrimp Tails and more, you'll definitely find the shrimp you're looking for. But, if you're wondering if shrimp is a healthy option, we've prepared a complete guide to some of the biggest health benefits you get by eating shrimp.
The Health Benefits that Shrimp Brings
·       Rich in Antioxidants & Omega-3
 Antioxidants help protect our bodies, and shrimp contains the antioxidant known as Astaxanthin. A little-known fact is that shrimp that it feeds on a special type of algae that is high in Astaxanthin, and this is what causes shrimp to have a pink/reddish tint. As mentioned, antioxidants are very beneficial to our body, and eating shrimp can help improve certain cholesterol levels, lower inflammation, and also helps keep our arteries strong.
Along with antioxidants, shrimp is a wonderful source of omega-3, which helps with brain and heart health thanks to the variety of nutrients that contain omega-3s. From children to adults, omega-3 is vital for brain development.
·       A Low-Calorie Food
While we all love the taste of shrimp, what some may not realize is that shrimp is actually low in calories. Roughly, there are about 83 calories for every three-ounce portion of shrimp. This means shrimp is an ideal food for those looking for a nutritional yet great tasting food. It can be added to salads, sandwiches, or even as its own dish.
·       A Great Source of Protein
Not only is shrimp a low-calorie treat, but it is also an exceptionally good source of protein. A three-ounce portion of shrimp will have approximately 18 grams of protein. Protein is a vital part of any healthy diet and helps our bodies build muscle and it is also essential for organs, balanced hormones, and even for healthy skin.
 Get Shrimp & Scallops with FARM-2-MARKET
Not only do we carry fresh and never frozen shrimp and scallops (among other great seafood and fish) we also have a wide variety of seafood recipes you can find in order to prepare that perfect dish. To learn more about FARM-2-MARKET's fresh fish, seafood, and meat selection, or to get overnight delivery, shop now or contact us for more information.
---