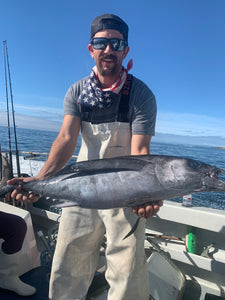 How to Tell if Your Seafood is Fresh
Do you have your eyes on a decadent seafood recipe? Before you start cooking, it's important to make sure you have the freshest possible seafood so that you wind up with the best flavor.
Fortunately, there are a few simple ways that you can test each type of seafood for freshness. Continue reading to learn a few tips from our seafood connoisseurs at Farm-2-Market.
Tips for Finding Fresh Seafood Near Me
Whether you choose to purchase whole or filleted fish, signs of freshness can be found in the appearance, smell, and feel of the product. The fish should have shiny, metallic scales that are connected to the flesh. If liquid appears milky or slime-like, it may be a sign of fish that has gone bad. If the fish is whole, we also recommend checking the eyes to make sure they are bright and clear.
If the fish is fresh, the flesh should spring back easily when you press into it with your finger. Lastly, fresh fish should not have a strong odor. From striped bass to fresh albacore tuna, we offer a variety of fresh fish that is delivered straight to your door!
When looking for fresh shrimp, it can be difficult to determine freshness based on appearance alone due to a wide variety of natural colors such as grey Mexican shrimp and bright pink California spot prawns. However, it is best to avoid cooking shrimp if you notice black spotting. Shrimp should have a salty smell, and the flesh should be firm.
Scallops should be white, orange, tan, or pink in color depending on whether they are giant sea scallops or small bay scallops. Fresh scallops should smell fresh and mildly sweet.
Other crustaceans
When it comes to crustaceans such as lobster, crab, and crawfish, there are not many ways to test for freshness. However, you should be able to tell if the product is off by smelling it.
When consuming raw oysters, mussels, or clams, food safety is imperative. You will need to ensure the seafood is still alive before you open its shell. Check that the shellfish is alive by tapping on the shell and making sure it closes tightly. Oysters may be purchased on the half shell; however, you should make sure they have a fresh smell, and clear liquid surrounding a plump morsel.
At Farm-2-Market, we source our seafood from the world's top locations. Contact us to order your fresh seafood today!
---