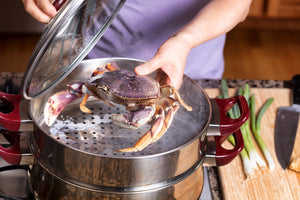 Dungeness Crab for Thanksgiving Dinner
West Coasters know that live Dungeness crab can be purchased at the peak of freshness during Thanksgiving weekend. This is the perfect excuse to mix up the traditional turkey dinner with a fresh, festive Dungeness crab recipe.
The seafood lovers at Farm-2-Market have provided a few great reasons to cook Dungeness crab this holiday season, along with a delicious Thanksgiving dinner recipe.
Dungeness crab is in season 
Thanksgiving day falls during the high season of Dungeness crab, meaning seafood lovers can indulge in fully grown crab, for a satisfying seafood dinner. Dungeness crab can also often be purchased on sale as seafood markets are not as busy towards the end of the year.
A break from turkey 
During the holidays, many people get an overload of turkey dinners. Dungeness crab can be a nice, light alternative, which can be prepared in a variety of ways with the many delicious recipe options available.
Save time with crab 
Thanksgiving dinner can take the whole day to prepare, due to the long cooking time required by turkey and the traditional side dishes. Dungeness crab can be prepared in just a few minutes and can be as simple as adding a basic rub and a squeeze of lemon to flavor the meat.
A delicious recipe for Crab Imperial
What you'll need:
1-pound Jumbo Lump or Dungeness Crabmeat
¼ t salt
¼ t fresh ground black or white pepper
1 cup thick mayonnaise
1 large egg, lightly beaten
1 teaspoon dry mustard
¼ t paprika
Topping
1 large egg, lightly beaten
½ c thick mayonnaise
Pinch paprika
1 tablespoon chopped fresh parsley
Preheat oven to 350F.
Clean Dungeness crabmeat and sprinkle it with salt and pepper.
3. Mix the mayonnaise, egg, dried mustard and paprika in a bowl.
Fold the mayonnaise mixture into the seasoned crab meat, being careful not to tear the lumps of crab meat apart.
Distribute the crab mixture evenly between four small baking dishes.
Bake for 30 minutes, or until mixture is hot and bubbling.
In another bowl, prepare the topping by whisking the beaten egg, mayonnaise, paprika and parsley together.
Take the crab mixture out of the oven when it is ready and turn on your broiler.
Distribute the topping between the four portions of baked crab and place them under your broiler to brown the outer layer.
Farm-2-Market
Visit our website or contact us today at 800-477-2967 to shop the fresh Dungeness crab we have for sale and place your order!
---