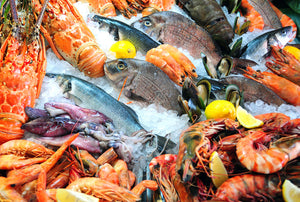 Ring in the New Year with a Scallop Dinner
New Year's Eve calls for a celebration. Whether you're spending the night in, having a romantic dinner with your significant other, or you're hosting an intimate party with friends, a scallop dinner is the perfect treat to finish off the year.
The seafood experts at Farm-2-Market have explained a few things to consider when buying scallops, and a great recipe to prepare them this NYE.
Tips for preparing a scallop dinner
Choose your scallops
Whether you plan on visiting a local seafood market, or you order fresh seafood online, it is important to know what to look for when buying fresh scallops. Fresh Giant Sea Scallops, also called "Diver's Scallops," are harvested on the East Coast and have a nutlike taste. Fresh Bay Scallops can be found on the East and West Coasts, boasting a delicate texture, small size, and a slightly sweet taste.
Consider buying scallops in the shell
Cleaning and opening in-shell scallops can make the cooking process slightly more intricate, however, this is a great way to get the freshest taste for a decadent NYE dinner. Thanks to online seafood markets, you can order fresh seafood right to your door and receive it overnight. Below we have provided one of our delicious recipes for those who want to try in-shell scallops for a special NYE meal.
Recipe for Sautéed Bay in-Shell Scallops
What you'll need:
1 lb in-shell Bay Scallops
2 tbsp Olive oil
3 tbsp unsalted butter
Juice of 1 lemon
1/4 cup chopped fresh parsley
Freshly ground black pepper
Preparation:
Prepare to cook your scallops in a pan that is large enough to fit all of them without allowing the scallops to touch.
Heat oil and 1 tbsp of butter until the pan is hot enough (nearly to the point of smoking).
Sear the scallops on one side and flip them, searing them until they are thoroughly cooked through.
Remove the scallops from the pan and return the pan to the flame.
Add 2 tbsp of unsalted butter and cook until the butter begins to turn a light brown color.
Once the butter has browned, add the lemon juice and chopped parsley.
To serve, pour the lemon butter over the scallops.
With the fresh scallops at Farm-2-Market, you'll be ringing in the new year in style! To view more great recipes, learn more about our selection of fresh seafood, or place an order, contact us today at 800-477-2967!
---