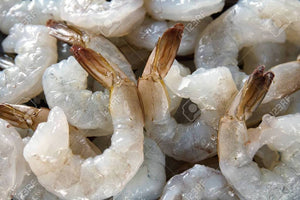 Three Things You Need to Know About Shrimp
Shrimp is a favorite food for countless people across the entire world. Besides being delicious, shrimp is rich in many nutrients while also being low in calories. FARM-2-MARKET is one of the leaders in providing fresh shrimp, whether you enjoy eating fresh wild Baja white shrimp tails or wild Mexican shrimp. You can also buy fresh fish online, as we take pride in always providing delicious food for our customers.
Here are a few of the top things to know about shrimp and why you should also buy fresh fish online.
1. Understand How Many Pounds to Buy
The first step is to know how many pounds you need if you plan to purchase shrimp or buy fresh fish online. Typically, one pound of raw shrimp is roughly equal to a half-pound of cooked, peeled shrimp. The majority of people can eat between a half to a one-third pound of peeled shrimped or three-fourth to one pound of non-peeled shrimp if it's the main course for your dinner.
2. Pay Attention to the Number Count
One of the confusing aspects of buying shrimp is that terms such as "medium" or "jumbo" are not standardized across the industry. The best way to determine the size of shrimp is to look at the number count on the label. The number displays the per pound of shrimp, as 16/20 is much larger compared to 51/60. The count number of U/10 also means that the package has less than ten shrimp, as these are known as "colossal-sized" shrimp.
3. Rich with Many Nutrients
One of the main advantages of eating shrimp is that it contains many nutrients, such as zinc, omega-3 fatty acid, and antioxidants. Shrimp is also the most consumed seafood in the United States due to its delicious taste. Fresh shrimp should always be consumed within a few days of purchase, or you can freeze raw shrimp up to six months.
Buy Fresh Fish Online from FARM-2-MARKET
FARM-2-MARKET can help you buy fresh fish online, as we never freeze our food to ensure it always tastes the best. You can also purchase a variety of delicious shrimp, and we offer overnight delivery. Offering the best quality of food at an affordable price is always our number one priority. Contact FARM-2-MARKET to buy fresh fish, seafood, and meat online!
---